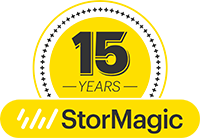 StorMagic is 15 years old!
To celebrate our 15th birthday, we're inviting our customers and partners to share their stories, experiences and memories of working with StorMagic over the years. We'd love to hear from you too! Use the form below to share your experience working with us.
Thank you for being a valued part of the StorMagic story so far. We're looking forward to many more years of success and partnership to come!
By submitting this form, you consent to allow StorMagic to store and process the information submitted and use it for marketing purposes and for StorMagic to contact you via telephone and email in relation to the information submitted. StorMagic is committed to protecting and respecting your privacy, and we'll only use your personal information to provide the products and services you requested from us. You may unsubscribe from StorMagic marketing communications at any time. For more information on how to unsubscribe, our privacy practices, and how we are committed to protecting and respecting your privacy, please review our Data Protection Policy.