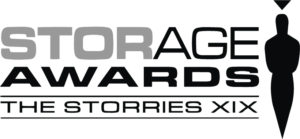 We're excited to let you know; StorMagic has been shortlisted in SEVEN categories in the 2022 Storage Awards Program! The Storage Awards is an annual program that recognizes the industry's finest products, companies and people.
Thanks to the help of our readers, StorMagic earned the title "HCI Vendor of the Year" in this awards program, in both 2020 and 2021.
StorMagic is shortlisted as a finalist in the following categories this year:
Storage Innovation of the Year – StorMagic ARQvault
One to Watch – Vendor – StorMagic
Channel Excellence Award – Brian Grainger
Contribution to the Storage Industry – Simon Marrion
Hyper-convergence Vendor of the Year – StorMagic
Software Defined Storage (SDS) Vendor of the Year – StorMagic
Storage Product of the Year – StorMagic ARQvault
Once again, this year's winners will be chosen based on the total number of votes received from UK businesses. Note: Votes coming from Yahoo, Hotmail and Gmail email addresses, or with non-UK based phone numbers or postal codes will be disqualified.
Every vote helps, and we'd love to have your support again in 2022. Click here to cast your vote now: https://storage-awards.com/?page=sta2022vote
Voting is open now through 30 May, and winners will be named on 9 June.
Best of luck to all of our fellow 2022 finalists!
Share This Post, Choose Your Platform!
Recent Blog Posts