Hivecell is an infinitely scalable and technology-agnostic platform as a service solution for edge computing: edge as a service (EaaS). In collaboration with StorMagic, Hivecell introduces Hivecell HCI – innovative EaaS for running virtual machines (VMs) in hyperconverged infrastructure (HCI). The solution:
Enables fast and simple edge adoption.
Guarantees availability and performance.
Provides strong data security and protection.
Provides easy-to-access innovative services.
Commits to customer success.
This solution overview provides a comprehensive analysis of the capabilities, features and product details of the Hivecell HCI solution, which leverages StorMagic SvSAN. The document examines typical use cases for the product, across retail, shipping, energy, manufacturing and more, as well as detailing the requirements, deployment and implementation process of introducing the Hivecell solution to your organization. Complete the form opposite to read and download the document.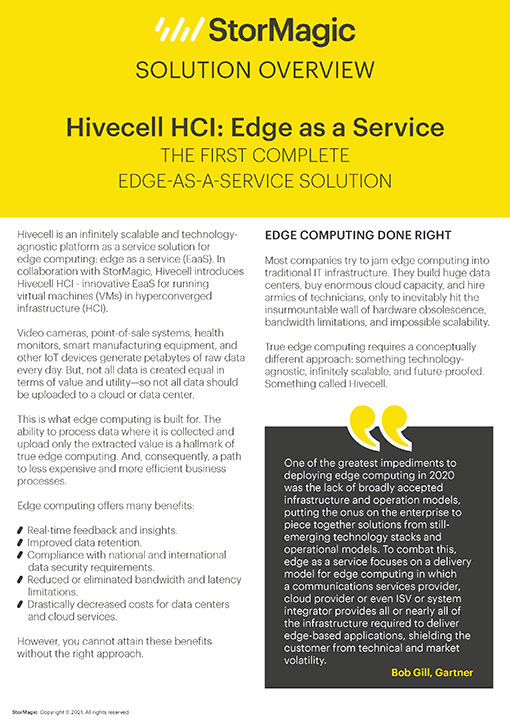 By clicking download above, you consent to allow StorMagic to store and process the personal information submitted and for StorMagic to contact you via telephone and email in relation to the content requested.
StorMagic is committed to protecting and respecting your privacy, and we'll only use your personal information to provide the products and services you requested from us. You may unsubscribe from StorMagic marketing communications at any time. For more information on how to unsubscribe, our privacy practices, and how we are committed to protecting and respecting your privacy, please review our Data Protection Policy.
Share This Post, Choose Your Platform!
More white papers from StorMagic: