On March 30, 2021, StorMagic announced its asset acquisition of SoleraTec, a video and digital asset management software company. In this IDC paper, read the thoughts of Mike Jude, Research Director, Video Surveillance & Vision Applications at IDC as he examines the acquisition and provides commentary and analysis on where this leaves StorMagic within the video surveillance market. Mike also provides advice for organizations looking to address the issues around the proliferation of video data and how it can be easily accessed.
"Solutions that can overcome this inherent conflict between distributed video data and the need for quick access and analysis are essential to increasing the utility of video in the business… StorMagic is clearly on the right path to addressing this issue."
Read and download the entire IDC paper by completing the form below.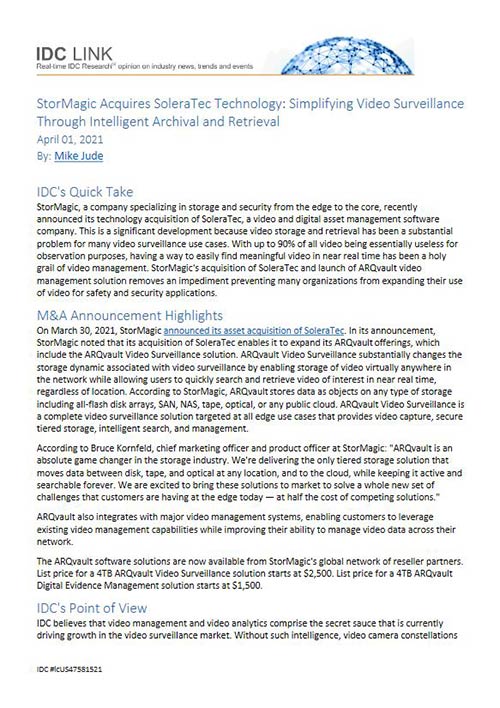 By clicking download above, you consent to allow StorMagic to store and process the personal information submitted and for StorMagic to contact you via telephone and email in relation to the content requested. StorMagic is committed to protecting and respecting your privacy, and we'll only use your personal information to provide the products and services you requested from us. You may unsubscribe from StorMagic marketing communications at any time. For more information on how to unsubscribe, our privacy practices, and how we are committed to protecting and respecting your privacy, please review our Data Protection Policy.
More white papers from StorMagic: